Ken Seiling Waterloo Region Museum
Ken Seiling Waterloo Region Museum
Ken Seiling Waterloo Region Museum is the largest community museum complex in Ontario, encompassing a museum, heritage village, hall of fame, and curatorial centre. We are open daily and feature engaging exhibits, programs, and special events. Our long-term gallery explores 12,000 years of Waterloo Region history, from pre-contact times to the present and beyond. The 5,000 sq. ft. feature gallery provides a venue for both external travelling and inhouse-produced exhibitions. The Museum also houses the Waterloo Region Hall of Fame, and serves as the entrance to Doon Heritage Village.
Doon Heritage Village is a picturesque, 60-acre, living history village, showing visitors what life was like in Waterloo Region around the year 1914. The Village is open seasonally, from May to December. One admission price includes entry to the museum, hall of fame, and historic village.
Social Media. Connect with us.
Sign up for eNews
Facebook - Waterloo Region Museum
Twitter - @WRMuseum
Instagram - @WRegionMuseum
Youtube - Waterloo Region Museum

Museum Campus Facilities:
Museum exhibit galleries
Picturesque 60-acre Doon Heritage Village
Waterloo Region Hall of Fame
Christie® Theatre, meeting rooms, green space and a grand foyer for event rentals
Collection and artifact preservation facilities located at the Region of Waterloo Curatorial Centre

Website: www.waterlooregionmuseum.com
Type: Community Museum | Living History Site
"Circa 75" Stereo Console, 1967Electrohome Limited, Deilcraft Division65 cm high x 91 cm diameter2007.031.059Electrohome Limited has a...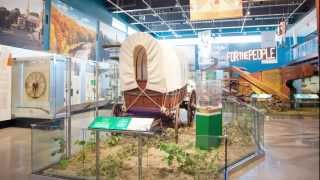 Watch the Waterloo Region Museum video to hear from some of the many people involved in the design and construction of Ontario's...