Glanmore National Historic Site
Glanmore National Historic Site, was designated a National Historic Site of Canada in 1969 in recognition of its exceptional 2nd Empire architecture. Glanmore was built in 1882-1883 for wealthy banker J.P.C. Phillips (1842-1912) and his wife Harriet Dougall Phillips (1839-1915). The grand interior features beautiful hand-painted ceilings and ornate woodwork. Many of Glanmore's rooms have been restored to the 1890s and feature period room displays containing some original furnishings as well as beautiful objects from the Couldery Collection.
The museum cares for an extensive collection of antique furniture, paintings and ceramics. Local history is highlighted in Glanmore's lower level, and includes the Pre-Confederation Homestead exhibit and Maid of All Work: Domestic Service at Glanmore. The Museum is open to the public six days a week and offers a wide variety of programs and activities for schools and the general public. Guided and self-guided tours are available year-round. Be sure to visit Glanmore's gift shop, located in the reception room, for a selection of candies, reproduction toys, hand-made gifts, books, museum souvenirs and more.
Glanmore National Historic Site opened as a museum in 1973. Glanmore is owned by the City of Belleville and operated by the Recreation Culture and Community Services Department. Glanmore also receives funding from the Ontario Ministry of Culture.
Website: www.glanmore.ca
Type: Historic Building | Community Museum
You Must...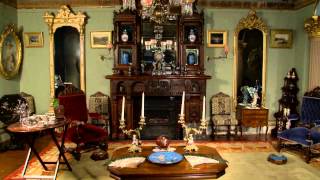 Glanmore National Historic Site - Video Tour Highlights