Touring Upper Canada Village is a magical experience, transporting you back in time to the 1860s. A key part of the experience is the authentic buildings that make up the village, the activities that each housed, and of course, the people who lived there.
Upper Canada Village, one of the largest living-history sites in Canada, endeavours to depict life in a rural English Canadian setting during the year 1866. Featured at the site are over 40 historical buildings, including several working mills (woollen mill, grist-mill and sawmill) and trades buildings (blacksmith, tinsmith, cabinetmaker, cooper, bakery, cheese-maker). Farming is demonstrated through the growing, harvesting of processing of heritage vegetables & livestock. Aspects of late 19th-century domestic arts, social life, music, religion, and politics are also discussed, interpreted and demonstrated at by staff dressed in clothing of the period. Local gardens in the village feature the flora and fauna commonly grown in the summer.
Upper Canada Village also offers several educational camp programs that allow children to experience everyday life in 1860s Canada.
Upper Canada Village is situated next to the War of 1812 Battle of Crysler Farm site, visitor centre, and memorial.
Website: www.uppercanadavillage.com
Type: Living History Site | Agricultural Site
You Must...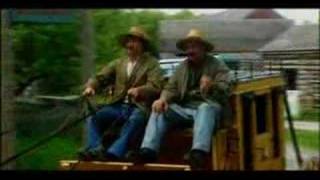 A television commecial for Upper Canada Village, Morrisburg, Ontario.
In July of 2012, Upper Canada Village was given a painted red earthenware crock that had belonged to the last surving members of a family that had...