For over 60 years, the Oshawa Museum (OM) has celebrated our City's history with engaging events, inspiring exhibits, and an immense collection of archival materials. Nestled on the shores of Lake Ontario in beautiful Lakeview Park, the OM tells the story of Oshawa from Indigenous inhabitants to present day. Home to Oshawa's history, the OM is managed by the Oshawa Historical Society.
Programs and services include exhibits, education programs, group tours, children and adult programs, wedding photographs, gift shop, and archives.
Website: www.oshawamuseum.org
Type: Community Museum | Archives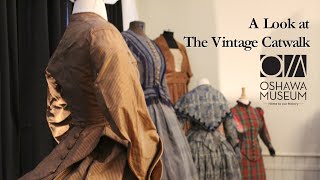 Take a look at our 2019 feature exhibition, The Vintage Catwalk, as our Community Engagement co-ordinator Lisa highlights some of her favourite...
One of the reasons I love history is because of the connections it forges with people and events that happened many years ago.  For me these...