This heritage village is located on the site of an early farmstead within Backus Heritage Conservation Area. The site features 15 historic buildings, including the 1798 John C. Backhouse grist mill, two log houses and an octagonal schoolhouse. Exhibits highlight marine artifacts, storefronts from the 19th century and an agricultural implement collection. Special events and interpretive programs are presented throughout the year. School programs, youth badge programs and interpretive tours are available with advanced reservation. A War of 1812 re-enactment event is held annually in September.
Website: http://www.lprca.on.ca
Type: Historic Building | Conservation Area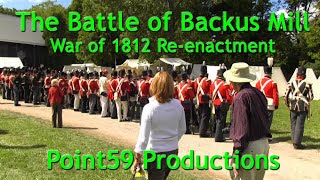 This video is about the Battle of Backus Mill. The War of 1812 Re-enactment is an annual event held at the Backus Heritage Conservation Area near...
Aerial view of Backus Mill and Backus Heritage Village in Port Rowan.