Annandale National Historic Site
Nationally designated for its magnificent interior, Annandale House serves as a premier example of the "Aesthetic Art Movement." Popularized by Oscar Wilde, this movement encouraged the use of colour and decorative detailing as shown in its extravagant hand-painted ceilings, ornate woodwork, and beautiful art glass. Built in the 1880's by E.D. Tillson, the home truly combines the best of what the Aesthetes professed. This museum complex includes both restored period rooms and local history galleries.
Website: https://www.tillsonburg.ca/en/Annandale-National-Historic-Site.aspx?_mid_=104570
Type: Community Museum | Historic Building
You Must...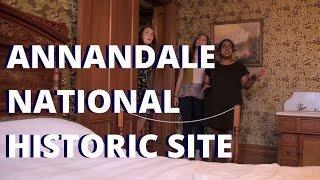 Annandale National Historic Site is a true wonder to explore. Built in the 1880s by Edwin Delevan Tillson, the first mayor of Tillsonburg, it is the...