Museum of Ontario Archaeology
The Museum of Ontario Archaeology (formerly London Museum of Archaeology) is a non-profit research centre devoted to the preservation of 12,000 years of Ontario's archaeological history. Adjacent to the museum is the Lawson Provincial Heritage and Archaeological Dig Site. Identified as an area occupied around 1475 - 1500 AD by approximately 2000 "Neutral" Iroquoians, the excavated portion of this semi-permanent village hosts reconstructions of the palisade, earthworks and one of nine fully excavated longhouses.
Website: www.archaeologymuseum.ca
Type: Archaelogical Site | Historic Building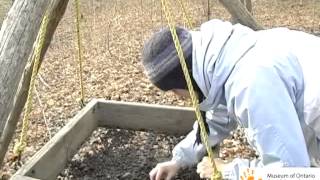 Various archaeologists talk about the excavation of the Lawson Site behind the Museum of Ontario Archaeology. The Field Methods in Archaeology class...