Lang Pioneer Village Museum
Just 10 minutes east of Peterborough, Lang Pioneer Village Museum has over 20 restored buildings constructed between 1800 and 1900. Villagers of all ages, dressed in authentic historical costume, go about their daily chores. Demonstrations include blacksmithing, printing, craftwork and domestic activities of a traditional pioneer homestead. The site is also home to the Lang Grist Mill originally built in 1846 and still in operation today. Visitors can see wheat ground into flour and take home a souvenir bag for themselves. A photographer's paradise, the village is complete with lanes and pathways, farm animals, rail and stump fences, vegetable and herb gardens, as well as other authentic details of a 19th-century hamlet. The Visitor Centre features two exhibit galleries as well as a gift shop. An exciting lineup of education programs and special events are offered throughout the year.
Website: www.langpioneervillage.ca
Type: Living History Site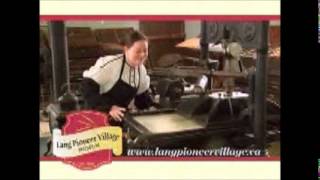 A sneak peak at all that Lang Pioneer Village has to offer!