The Huron County Museum houses permanent exhibits depicting the early settlement and development of Huron County. The History Hall with storefronts and a locomotive allow you to stroll back in time. Young people especially enjoy turning the handles that bring the hand-made models created by Museum Founder Joseph Herbert Neill to life. An extensive Military Gallery, Furniture Gallery and Agricultural displays interest and fascinate the visitor. Temporary exhibits cover a wide spectrum of subjects of special interest.
The Museum also houses the Huron County Archives. Appointments for research available.
Website: www.huroncountymuseum.ca
Type: Community Museum | Archives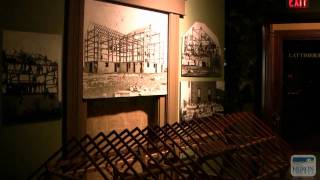 Take a tour of the Huron County Museum with Assistant Curator, Elizabeth French-Gibson.  Produced for Ontario's West Coast.